Nobilia Kitchen in Raipur
Raipur, the capital city of Chhattisgarh state, is also famous as 'Steel City' for housing the country's biggest steel plants, mills, and markets. Another thing that makes Raipur popular is its cuisine which blends traditional and modern food. Raipur residents prefer preparing their meals in a clutter-free, neat kitchen space equipped with intelligent storage solutions. If you have been looking forward to transforming your kitchen space or installing a new ergonomic and futuristic kitchen solution with digitally-inspired features and pleasing aesthetics, then visit Nobilia Experience Centre Raipur.
Nobilia team is an expert in identifying clients' needs and choices, suggesting the design, layout, and kitchen features, and helping you get the kitchen you have been aspiring for!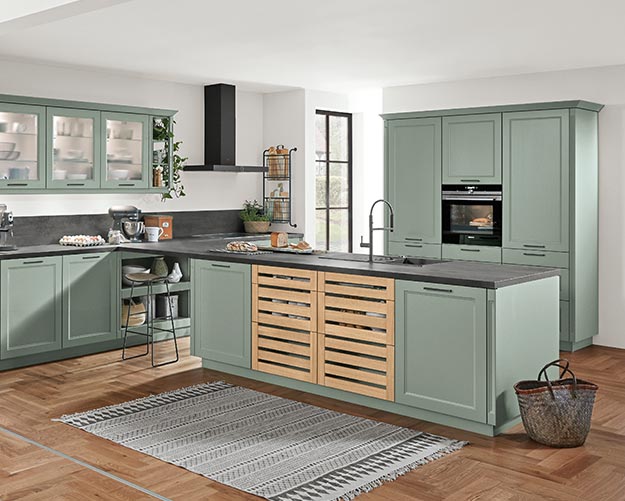 What makes German Modular Kitchens revolutionary?
German kitchen brands are known for offering innovation, modish designs, precision engineering, and luxurious spaces. Their kitchens are an ideal amalgamation of smart functionality and sleek aesthetics. Nobilia modular kitchens offer extensive choices of bespoke German kitchens, excelling in design, quality, and construction.

Adjudged as a trusted name worldwide, Nobilia German Kitchens are made from sustainable and premium quality materials to last a lifetime. The personalization and flexibility offered by Nobilia enable you to choose your dream kitchen. Due to the wide range of elite choices, the possibility to custom-create your kitchen space is virtually endless. Our German modular kitchens are characterized by cabinets of appropriate height and depth, ergonomic use of space, innovative features, minimalistic and classy design, seamless finish, and high storage efficiency.

Nobilia modular kitchens are rigorously tested based on strict standards of quality, safety, and environmental compatibility. We invest in new-age technology to create futuristic kitchens that deliver only excellent and unrivalled user experience.